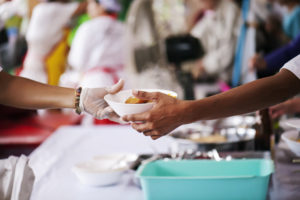 Every day, poverty continues to be a persistent obstacle for individuals and families to overcome. According to Continuums of Care, New Mexico had an estimated 3,333 people experiencing homelessness on any given day during 2020. Here at K.W.S., we recognize the ongoing need for essential goods and have devoted our newest cause campaign to reversing these cycles of poverty. We are thrilled to announce that for the next three months, we will join The Lighthouse Mission in its mission to brighten the future of our less fortunate neighbors.
Lighthouse Mission, Inc. has been serving its community for 30 years. Since opening its doors, individuals in Clovis and the neighboring communities have benefited from this care by housing the homeless, feeding the hungry, clothing the less fortunate, and assisting our most vulnerable neighbors to reach comfort and normalcy in their everyday lives.
To further enhance the effectiveness of its ambitious goal, Lighthouse Mission needs our help. Over the years, members have developed several programs and services designed to meet the needs of our less fortunate neighbors. The services provided for community needs include a Soup Kitchen, Clothing Bank, Homeless Shelter, and Recovery Programs.
Because Lighthouse Mission is a non-profit, they depend on donations and community support to remain operational. Join us in our goal to reduce these cycles of poverty. Together, we can ensure the needs of the total man in body, soul, and spirit receives the spiritual aid and comfort necessary to fulfill a prosperous life.
Ready to take the next step? Recommend your friends, family, and co-workers to receive an insurance quote from us, and we'll donate $10 for every person! They only need to receive a quote- there is no obligation to purchase. All funds raised during our Community Cause Campaign will go to The Lighthouse Mission, Inc. to support and create a positive change in our community.